Emma: A Lady's Maid - Demo
A downloadable game for Windows, macOS, and Linux
Emma is the lady's maid to the eldest daughter of the Beresford family, Eveline. With no interest in ladylike persuits, the young lady feigns illness at every opportunity for a ball, soiree, or other social activity.
But Emma is no ordinary maid. So when she and her mistress are sent on a journey in the sky, with balls and soirees that are host to many eligible bachelors, the adventure is only just beginning...
Word Count: ~7000
Single playthrough: 15-45 minutes
---
Setting
The 19th century.
Victoria is Queen of Anglia.
William Darwin is Prime Minister.

Steam-powered technology has spread across the world like wild-fire, enabling global trade and travel of the grandest scale. Ships travel the skyway with ever more interesting cargo - transglobal goods, contraband, princesses - perfect treasure for sky pirates, many of whom operate without a piracy license. Land transport, on the other hand, is dominated by trains, though the locomobile is slowly gaining traction with forward-thinking gentry and nouveau riche.
Love Interests
Although you only meet the love interests briefly in the demo, there are two in the game: a nobleman and a female scientist. I would also like to include a male pirate, if there is time.
Specialisations
At the start of the story, you can choose a specialisation in three different areas: academics, social graces, and forbidden science. These specialisations unlock additional scenes, solutions, and dialogue options throughout the game. In the demo, you get the opportunity to fully explore a challenging puzzle based on a specialisation.

Choices, Choices
The game features a mixture of VN-style choices and RPG-style choices, where some heavily impact the story, while others just add a bit more flavour to your interactions. For those choices that affect the grand scheme of things, there is a slightly different graphic, so you always know whether your decisions are big or small.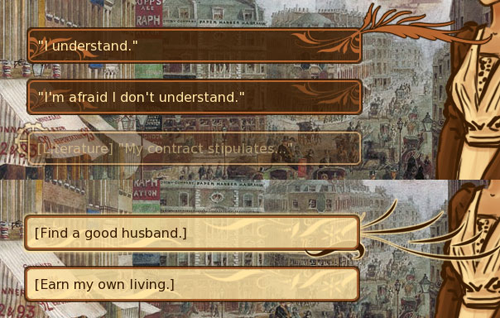 Backgrounds
Only 1 background in the demo, I'm afraid. I am using an image drawn during the era that is now in the public domain - with a couple of photoshop tweaks. I know that doesn't exactly sell the game, but I thought I'd be honest about this. :)

---
Release Date
This project is not my main project, I'm working on it on-and-off while doing other things, such as Stranded Hearts and work I do for a living. As such it will probably take a while. I hope to commit a lot more time to it in the future, once I've released a few more shorter VNs.

| | |
| --- | --- |
| Status | In development |
| Platforms | Windows, macOS, Linux |
| Rating | |
| Author | Dreamgate |
| Genre | Visual Novel, Interactive Fiction |
| Tags | Female Protagonist, maid, Otome, Romance, Steampunk, Story Rich, victorian |
| Average session | About a half-hour |
| Languages | English |
| Inputs | Keyboard, Mouse |
Install instructions
Download, unzip, and run! :)

Feel free to contact me if you run into any problems!
Download
Comments
Log in with itch.io to leave a comment.
Interesting. Nice artstyle, good riddles and nice story. A lot of meaningful choices.
I'd like to see full version.
Thanks so much for leaving a comment! I'm thrilled you liked it!
If you don't mind me asking, what did you think of the "chemistry" puzzle/riddle at the end? Was it easy/hard? Did you get stuck at all or have to guess? Not had feedback on that yet so no idea whether it works and should be included in the final game or taken out/tweaked. :)
Well, I've never been good at chemistry haha. And this riddle was a bit hard. I wasn't stuck, quickly realised what I had to find and after few guesses a was able to solve it. In my opinion, it's okay this way.
I love this game! Particularly the specialisations and how they affected the choices available. The dialogue and narration was well written and flowed naturally, and the storyline so far has definitely kept me interested. I'll look forward to playing this in the future!
Goodness, thanks so much for leaving a comment!! I'm so glad you think it's on the right track. It's a bit of a departure from other stuff I've done so I wasn't sure if it worked. So really glad you liked it! ^_^